In a viral video, a group of Chennai men was seen harassing Northeastern people during Hero Indian Super League (ISL)'s Chennaiyin FC-NorthEast United FC match at the Jawaharlal Nehru Stadium in Chennai on Thursday.
The men, who look inebriated, surrounded the girls and mocked them with bad signs and disgusting behaviour, while one man is dancing obscenely. He is clearly targeting a woman sitting in front of him. Even as a man sitting next to the woman tries to stop him, he continues to make suggestive gestures at her.
"We had gone to support our North East United FC play against Chennaiyin FC in the ongoing ISL 2017-18 season. I agree that there is nothing wrong with trolling and making fun of supporters of the opposition team. But abusing our Northeast girls is something which is beyond that limit", said a football fan from Assam who was in the stadium during the incident.
He further added that even last year, two of his friends were beaten up at the same venue but they decided not bring it to the public domain but this time they intentionally came to a stand where a sizeable number of NEUFC fans were watching the game.
"They blocked us by standing in front of our seats. They just wanted us to react so that they can beat us", he added.
MORE: Northeast troupes boycotts 2017 Octave Festival over alleged assaults by Goa Police
Another Northeast United fan posted, "These hooligans should be condemned but please avoid using any racist remarks. We were surrounded by them and they were many. These two Northeast girls and the two guys with them were resilient enough to remain calm because they knew how to handle the situation. Or else the situation would have further aggravated."
Bollywood actor John Abraham, who owns the NorthEast United team, has termed the incident deeply disturbing. In a post on his team's official Twitter page, the actor said: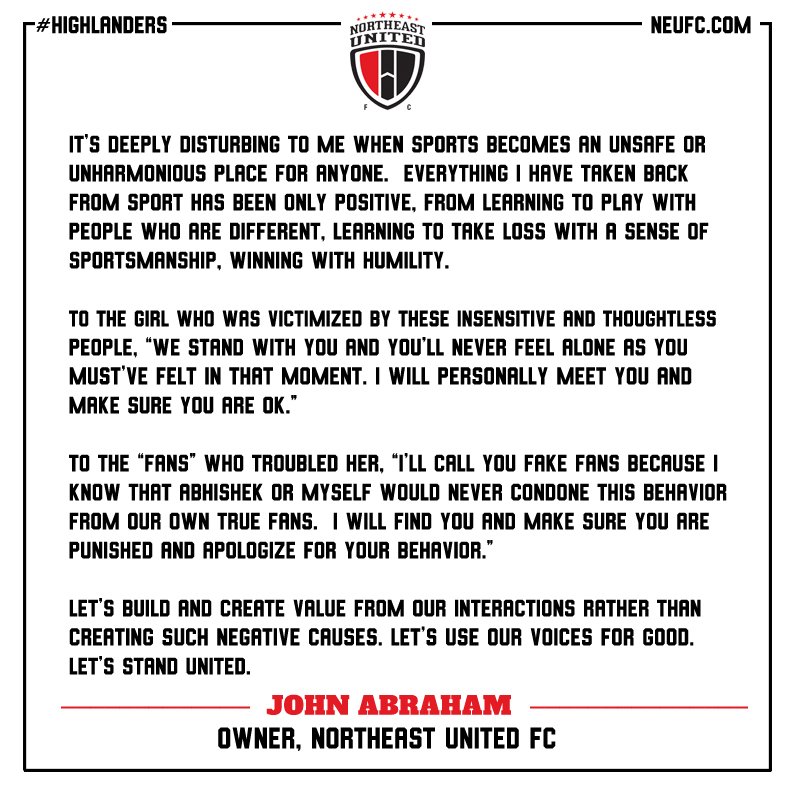 Meanwhile, Chennaiyin FC, who had emerged 3-0 victors in the match has apologised for the shameful incident.
Watch the video footage of man harassing Northeast girls